SJM Crew, it's the final day of my birthday special foodie series. We're ending off this series with the Bajan (Barbadian) food that I like, from appetizers to dessert. I will tell you from the start, one thing you will not find on this list is Barbados's National Dish. Not at all!!!!
1. Fish Cakes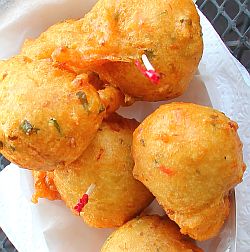 These can be eaten for breakfast, lunch or dinner and are sold at some restaurants as appetizers. You can also find these at almost any party, fair, wedding, function. Fish Cakes must have in a good set of cod/salt fish with seasonings in it, without the adequate amount of cod/salt fish it's just a flour cake. I said what I said. I like to eat these plain or dipped in ketchup or sweet and sour sauce. Another way Bajans like to eat this (not my preferred way of eating it) is between salt bread. Two fish cakes sandwiched in a salt bread, also known as a bread and two.
2. Bakes
Traditionally eaten at breakfast, but you can eat these at any time of the day. Flour, sugar, nutmeg, ground spice and water or egg. Mix them all together and fry that batter until it's golden brown. This makes a flat bake, sometimes I like to add a little baking powder and get a fluffier/bigger bake. Cut it and eat it with cheese or corned beef.
3. Conkie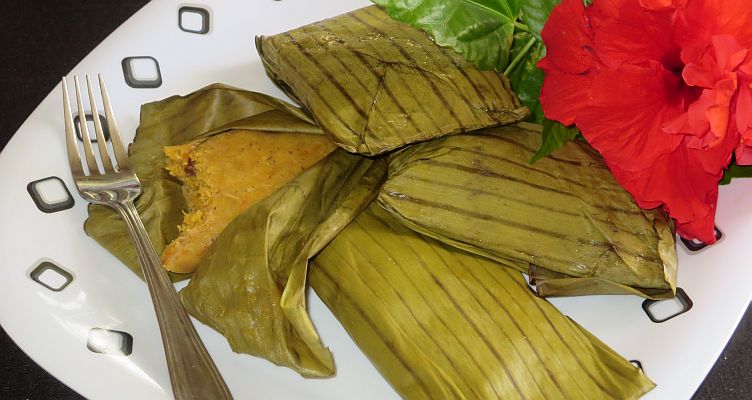 Made during the month of November, for Independence time. I love a Conkie and there's a big debate in Barbados each year with #teamraisins vs #teamnoraisins. I'm on TEAM RAISINS and I stand by my point that a Conkie without raisins is not a Conkie.
4. Salt Bread
I love bread, and Salt Bread even more. So much so that I would eat them with nothing between them.
5. Pickled Chicken Feet
Quite a number of Bajans don't like this dish. Me? I love it, once your pickled cucumber is done with just the right amount of saltiness to spiciness, then yuh well set.
6. Sweet Bread
This is also known as Coconut Bread. Read that line again. It contains coconut, so you know this would make the list. Made with coconut, dried mixed fruits, raisins, cherries, and baked in a loaf pan. It looks like a loaf of bread but is on the sweeter side. Also if Sweet Bread is lacking coconut then… it really isn't a Sweet Bread.
7. Cassava Pone
I don't like Cassava just like that but I do love Cassava Pone. The stickiness, and sweetness of this dish is just what you need to satisfy your sweet cravings.
8. Bajan Rock Cakes
Whether homemade or from Purity Bakeries. I love these. It is flour and I like pastries sooooo yeah. These can be enjoyed with any cold beverage or tea and is a quick filler for when you need something quick to eat.
9. Currant Slice
If one does not like raisins then this ain't the pastry for you. Although, they are some people who buy these and take all the raisins out, just to eat the pastry which will still maintain the sweet flavour of raisins which was simmered in sugar, cinnamon and nutmeg. I haven't quite found who has the perfect Currant Slice as yet. A favourite pastime of mine was buying these after church from the supermarket. Sometimes they'll be gone and other times a fresh batch had arrived that same day.
10. Bajan Turnovers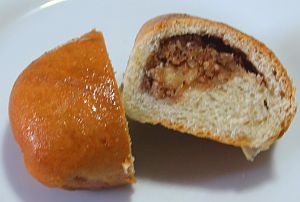 I surely cannot end this without adding the boss pastry. These contain COCONUT!!! Seriously if y'all hadn't gotten it throughout this entire foodie series that I love coconut, you must now. Imagine your cinnamon roll dough filled with coconut instead. Mmmhmmm. It taste good eaten just like that, but if you warm it just a little, I guarantee you that it will taste even better.
Some of you may be wondering why rice and peas or Macaroni Pie wasn't on this list but Macaroni Pie although I like it, isn't really my favourite, I'm not really a pasta lover. I'll choose rice any day but at the same time it ain't that great to make the list although, I will lick up some split pea rice with lamb or beef stew with coleslaw to the side.
Well my SJM Crew. It's been fun doing this foodie series, I hope you enjoyed reading it as much as I enjoyed writing it. I don't know what's in store for the next post as yet but, it'll be up on Saturday and if not, I'll be back next week. Until then indulge in some self care.